As a part of a chain of 3 fish stores under the name of Aquajardin is the Southampton based tropical fish shop and although in the grounds of a garden centre, it is a stand alone building.
Location is:
Arturis Garden Centre
Allington Lane
Near Eastleigh
Hampshire
SO50 7DE
The first thing you notice when entering the store is the wide range of equipment and food available for sale. Packed to the rafters with all the big brands of filters, heaters, accessories and not to mention food and tanks. This store has everything you might need however long you have been doing the hobby of fish keeping.
This is not to say that there isn't a good range of fish available too to cater for any type of aquarium, during my visit there were a few gems of oddballs which I have not seen in the past as well as a good stock level of community fish such as tetra, barbs and loaches. One of the most striking things to note when entering the tropical fish room is the range of shrimp tanks which are central in the area, also explaining the types of shrimp too.
Each tank is very well labelled with information of how to best keep the fish but if you are in doubt the knowledgeable staff are very helpful and always on hand should you need them. The prices are as you would expect and all very reasonable so there's no need to re-mortgage before you take a trip to this LFS! This store also caters for the rift valley enthusiast and carries a good range of Malawi cichlids. It is also clear to see that all fish are in good health and well looked after.
As well as a tropical fish room there is also a good range of cold water fish and marine fish available and if you are unsure of how a tank should look or want some inspiration there are a good variety of display tanks, even with a classy white sofa for you to view and absorb the creativity of the display tanks.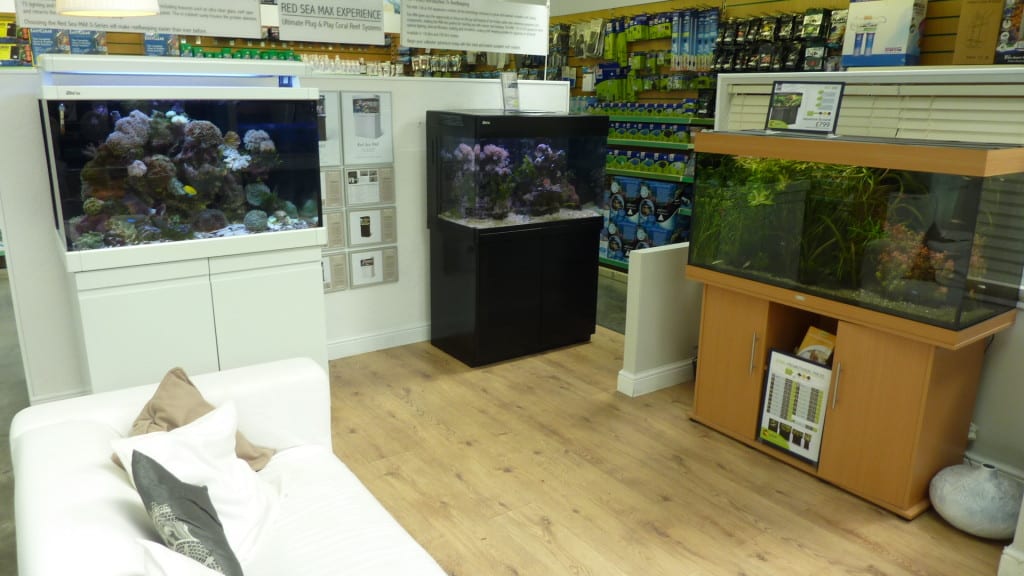 The advice I was given was unbiased and felt like I wasn't trying to be sold something but that I was being told the best option and way of doing something. This, in my opinion, is invaluable advice and certainly is well received. I will always take a visit to Aquajardin Southampton if I am in the area, not only to see what unique fish they have available, but to speak to the staff and share some feedback in the fish keeping world. Well worth a visit and receives the Tropical Fish Site thumbs up!