UK based company All Pond Solutions brings us a range of 6 external fish tank aquarium canister filters to suit most requirements so we have taken a look at the range to see what it looks like and how it compares to the rest of the market.
The first thing we notice is the price of the filters on offer, there is no doubt that if you are on a budget this is the range to be looking at when comparing to bigger named brands such as Fluval and Eheim.
The range consists of the following models:
| | | | | |
| --- | --- | --- | --- | --- |
| Model | Litres Per Hour | Built in 9W UV Steriliser | Tank Size | Dimensions (mm) |
| 1000EF | 1000lph | No | 400L | 232x232x395 |
| 1000EF+ | 1000lph | Yes | 400L | 232x232x395 |
| 1400EF | 1400lph | No | 600L | 258x258x430 |
| 1400EF+ | 1400lph | Yes | 600L | 258x258x430 |
| 2000EF | 2000lph | No | 1000L | 290x290x485 |
| 2000EF+ | 2000lph | Yes | 1000L | 290x290x485 |
As you can see it is quite a clear range with 3 different powers available, each has the option of having a built in 9W UV steriliser. To decide if the UV steriliser addition is an option for you we have discussed the merits of having this in our article about whether you need a UV filter on your aquarium.
Other key features the filters have are:
Multi Layer Filtration System
Quiet running / Low noise
Self Priming External Filter with Easy Clean Tap Shut Off System
It is also worth noting that each model is supplied with Ceramic Rings, Bio Balls, Activated Carbon and fine filter foam and has enough media to get you up and running covering all bases of what you would need in an external fish tank filter. Filtering aquarium tank water through internal layered baskets filled with assorted filter media material it provides extremely thorough biological, mechanical and chemical filtration.
As well as the filter media you are also provided with the inlet and outlet hoses to the canister filter (designed to sit underneath your aquarium). The hose size on the 1000 and 1400 models is 20mm outside diameter and 15mm inside diameter however the hoses supplied with the larger 2000 model are slightly larger at 20mm outside diameter and 15mm inside diameter.
The outlet tube is fitted with a spray-bar to help increase oxygen aeration levels within your tank. These filter's are absolutely ideal for freeing-up space within your tank and provide a huge internal capacity for filter media, making them suitable for larger volume tanks as you can see from the recommended tank capacity they claim to filter.
Maintaining the filter is very simple. The drip-free shut-off tap allows you to remove the filter and transport it away from your aquarium fish tank to an area more suitable for cleaning. Each filter media basket lifts smoothly out of the unit and can be easily rinsed through and returned to continue its operation. This tends to be the case for most canister filters, certainly the Fluval and Tetratec ones we have had a chance to take a look at work in a similar way. This is a standard way of having the filter as it means that the majority of internal capacity of the filter is actually active and filtering the water for you.
From what we have found with the All Pond Solutions External filters, they do everything they should do and don't have any bells and whistles, they can be slightly clunky but in a way this could be seen as a good thing as the more robust something is, the less likely it is to break and leak on you.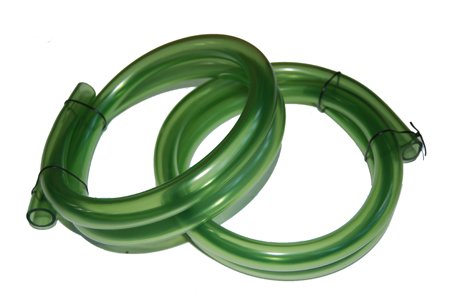 We'd recommend the All Pond Solutions external filter range for those who are working on a budget and looking to get the maximum bang for their buck!
Features:
Multi Layer Filtration System (Filter media included – Bio balls, Ceramic Rings and Active Carbon).)
Quiet running / Low noise
Self Priming External Filter with Easy Clean Tap Shut Off System
Hose size: 20mm / 0.8″ Outside, 15mm / 0.6″ Inside Diameter
Dimensions: 232 x 232 x 395 mm / 9.1″ x 9.1″ x 15.6″
---
Features:
Multi Layer Filtration System (Filter media included)
Quiet running / Low noise
Self Priming External Filter with Easy Clean Tap Shut Off System
Hose size: 20mm Outside diameter, 15mm Inside diameter
Dimensions: 258 x 258 x 430 mm
---
Features:
Multi Layer Filtration System (Filter media included)
Quiet running / Low noise
Self Priming External Filter with Easy Clean Tap Shut Off System
Hose size: 25mm Outside diameter, 18mm Inside diameter
Dimensions: 290 x 290 x 485 mm
---